Surface Coating and Wood Interiors
Brilliant Ways to Express Your Creative Vision
With the Quartz Collection®, our promise is simple: we will partner with you to design your windows and doors with any color you want, whether it is wood, or paint, popular or exclusive. That way, on your next home building project, nothing will be left to chance; your interior and exterior design will be according to your unique preferences.
Surface Coatings and Finishes
The Quartz Collection features an advanced powder-coat paint
system which is preferred for architectural aluminum.
Quartz windows and doors can receive an attractive yet durable powder coating in almost any color imaginable. And in CityLine series products, a two-tone powder coating with separate colors inside and out provides more creative opportunities.
The powder coating process involves applying colored powder to the aluminum substrate, by electrostatically charging the powder and spraying it onto the product. Powder coatings provide a more resilient surface compared to liquid paints, and present an attractive, rich appearance for your fenestration. Quaker has one of the largest state-of-the-art aluminum window powder paint facilities in the United States, with an unmatched in-house expertise in consistent, beautiful powder-coated surfaces.
Our powdering coating choices are designed to meet or exceed the standards set forth by the FGIA (formerly AAMA), a foremost governing body to the window industry. FGIA 2604 High Performance coatings are standard on all Quartz Collection's™ windows and doors. Or step up to the FGIA 2605 Superior Performance coating upgrade, available upon request.
| Specifications Tested | FGIA 2604 High Performance Coating | FGIA 2605 Superior Performance Coating |
| --- | --- | --- |
| Corrorion Resistence (accelerated Testing)) | 3,000 hours | 4,000 hours |
| Humidty Resistence | 3,000 hours | 4,000 hours |
| Weathering Exposure | 5 years | 10 years |
| Color Retention | 5 years: Fade = Delta E | 10 years: Fade = Delta E |
Powder Coatings: Environmentally friendly
Part of our Green Initiative, is our powder coatings. Powder coatings for our aluminum windows and doors emit nearly zero VOCs (volatile organic compounds) into the air. Also, almost all of our over-spray is reclaimed, thus eliminating waste.
Keep your window and door exteriors cooler with our optional SolarLE paint, an additive that works much like Low-E in glass. SolarLE paint is proven technology that has been adapted to work with windows. It diminishes surface temperatures as much as 15% by repelling excessive solar heat, reducing the possibility of thermal heat transfer through your windows and doors.
High Performance Metallic Surfaces
The Quartz Collection™ offers a Resembles family of colors that afford the look of anodized material, giving aluminum a deep, rich metallic finish that is ideal for creating the translucent metal look.
Class I Anodizing is the highest grade anodized available, and while more suitable to the commercial building sector, is has been used residentially for homes along the coastlines as it is more resistant to seaside exposure and salt spray. However, variations in the color of anodized material can create visual inconsistencies that should be taken into consideration when selecting your final surface finishes.
A true to color prospect for the Quartz Collection™ windows and doors, is our suite of Resembles colors. These hues are powder-coated finishes that present a crisp, consistent appearance to the look of anodized metal, proudly boasting their arrival with a bold, magnificence. As our Resembles colors are powder-coat based, they also feature "green" properties within the process. Additionally, Resembles colors carry a longer warranty than traditional anodized for true assurance that the grandeur of your windows and doors will not diminish over time.
The right interior wood trim can bring a warm, natural tone to your space. Additionally, Quartz Collection's TimberLine windows provide the lowest U-factor ratings for more comfortable wintertime rooms.
When it comes to wood interior finishes, the choices are up to you. We can provide windows in many of the popular wood species or help you find a unique and exotic wood that makes your rooms one-of-a-kind, subject to availability.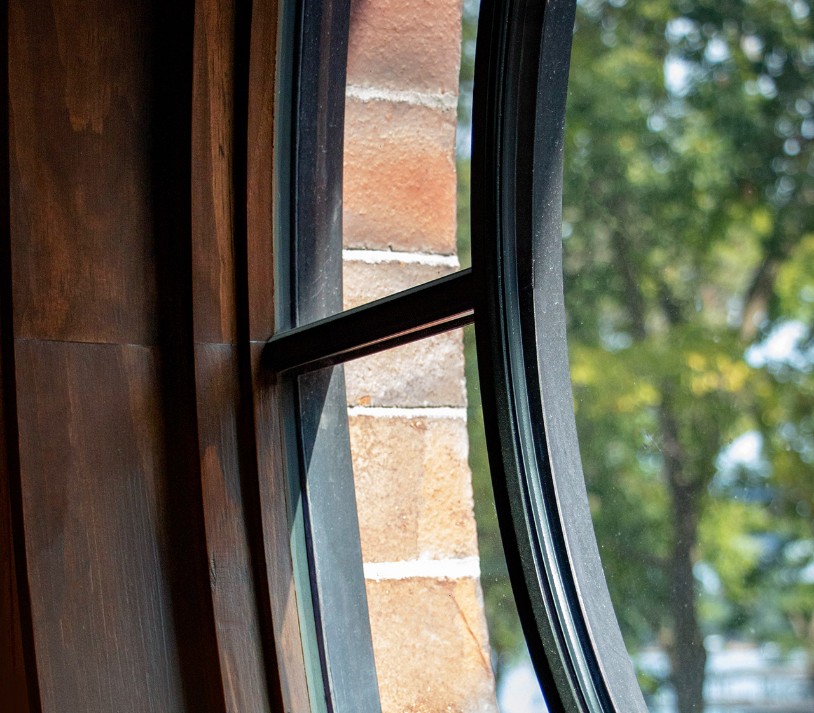 Spaces that understand
the way you live.